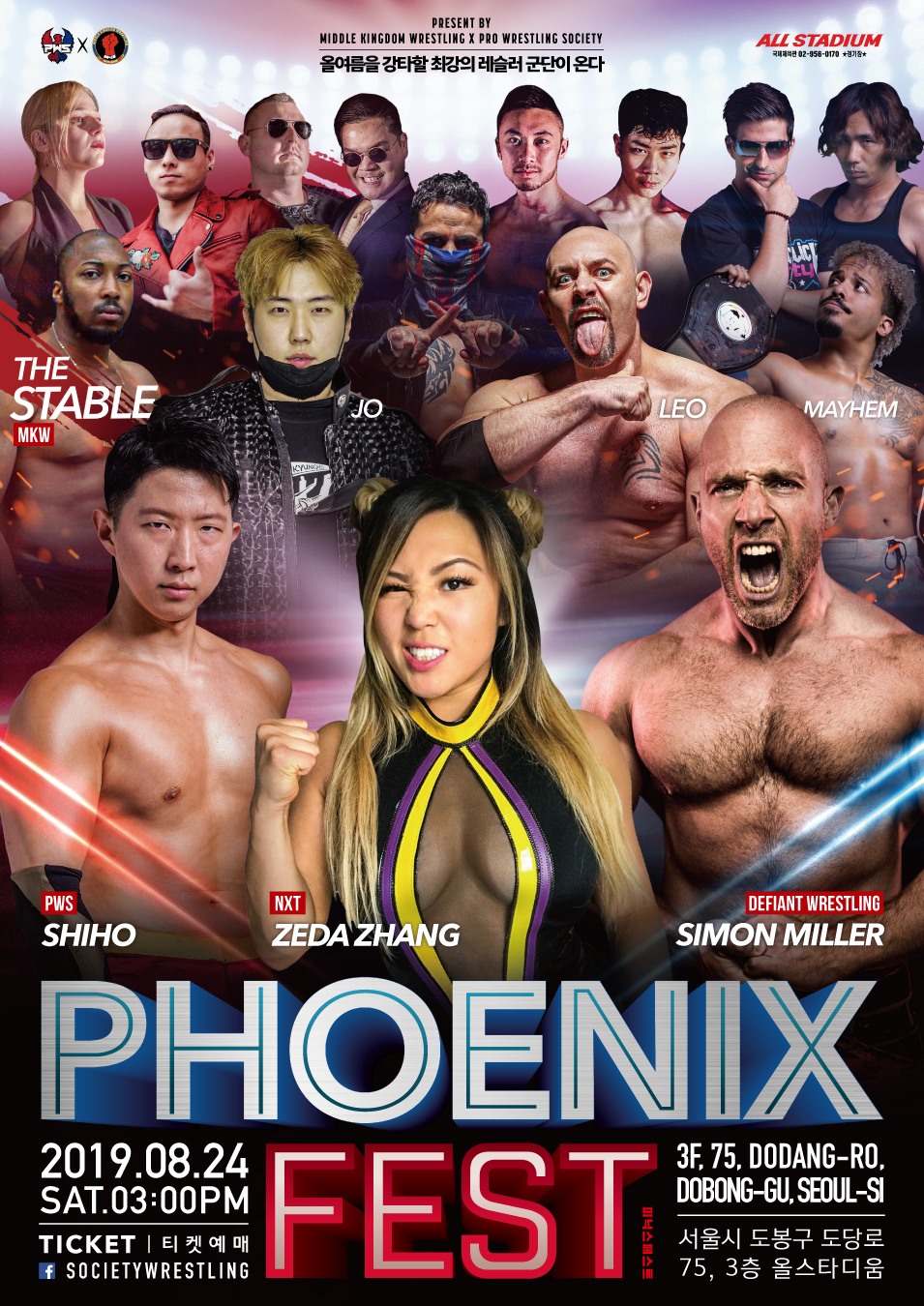 Could it be PWSxMKW !?
South Korea! Are you ready for Middle Kingdom Wrestling – 摔角王国 and Pro Wrestling Society present:
PWSxMKW Phoenix Fest 
on August 24 in the heart and soul of South Korea, Seoul!
In a once in a life time event – we are seeing the collaborative effort of the most Must-See pro wrestling organisation in China and the Number One pro wrestling organisation in Korea team up together to bring the great fans in Seoul the most hard hitting and exciting wrestling action that has ever graced a wrestling ring on Korean soil in an event that we are calling Phoenix Fest!
MKW world champion Michael Su will be in action and will be defending the MKW world championship for the first time ever in Korea.
Fresh from his WWE tryout in Shanghai, Lee Junyan plans to show the fans in Korea the unique Chinese style of pro wrestling.
And The Stable – yes, each and every member of the most notorious, badass group in all Chinese wrestling – will be present at Pro Wrestling Seoul: Phoenix Fest
That includes
The hit man for hire, Uncle Money
The Hong Kong born, California bad-boy actor and wrestler, Ash Silva
The former, but longest reigning MKW world champion in history, the BIG man himself, Big Sam
The brains and money behind The Stable, the evil Hong Kong banker, Chairman Al
and
The sexy, brilliant exhibitionist who has been successfully managing The Stable to victory for over a year, Lady Marie
And if that wasn't enough, the Women's Face face of MKW – Zeda Zhang will be making her first time wrestling debut in Korean history!
These MKW superstars will all be in action alongside all of the great superstars of PWS, including Shiho, Adam Mayhem and Simon Miller from Defiant Wrestling
For all ticketing information regarding PWSxMKW Pro Wrestling Seoul: Phoenix Fest, please refer to our great partner at Pro Wrestling Society