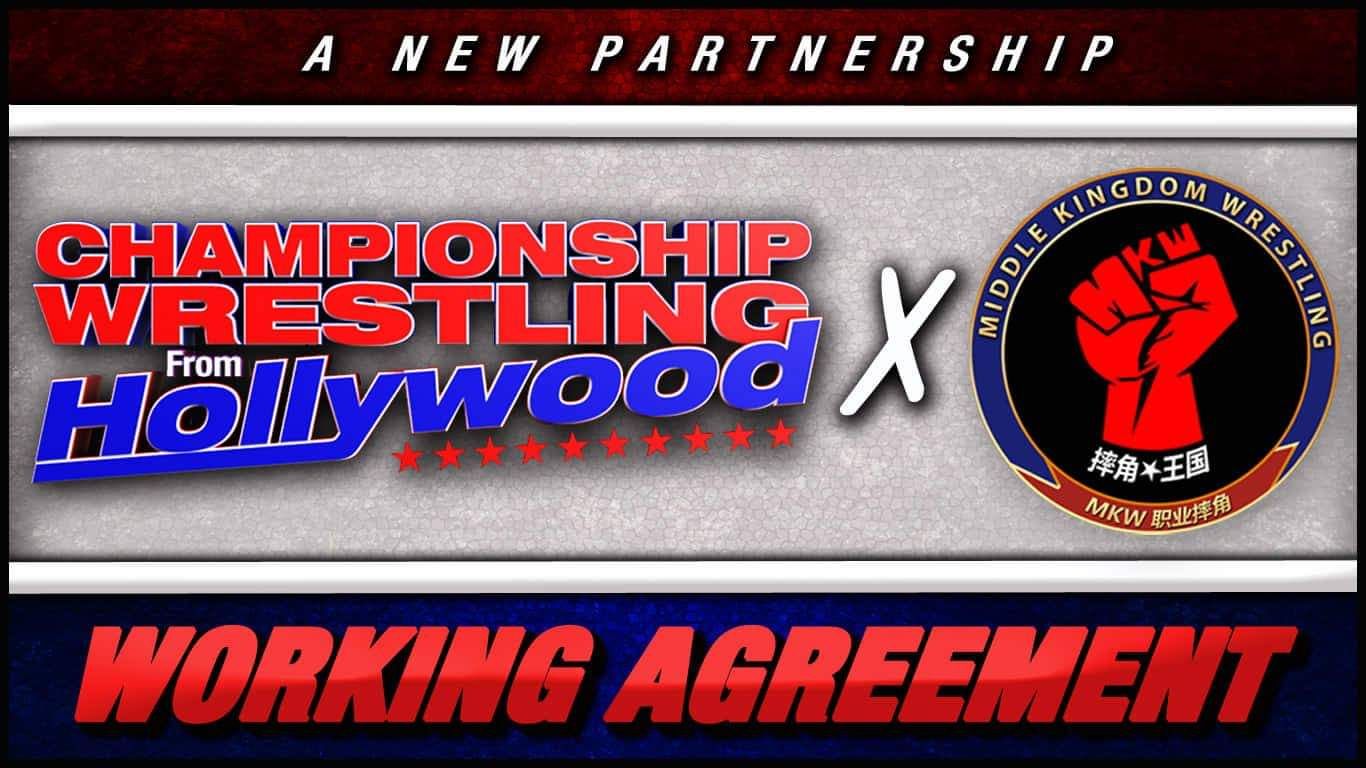 Since 2015, no company has been able to bring as much focus and attention on the lucrative pro wrestling market in China as much as Middle Kingdom Wrestling has and with our latest partnership, we will continue that trend for not only MKW but for all pro wrestling in China.
Middle Kingdom Wrestling is pleased to announce that we have entered a working agreement with "Championship Wrestling from Hollywood" one of the top brands of pro wrestling on TV in the United States today, having already aired over 400 episodes on over 120 television stations, cable channels and satellite channels.
In partnering with CWFH, MKW plans to accelerate its commitment to broadcasting all of the promotion's major events on the top live streaming networks in the Chinese market.
As MKW enters its next phase towards developing professional wrestling in the biggest country on the planet – China – we will have key personnel from the CWFH come to China to join the MKW production team.
By bringing top pro wrestlers and pro wrestling producers from one of the most exciting professional wrestling organisations in the United States today, we are ensuring that our MKW shows in China will be able to capture and produce our exciting Chinese pro wrestling action on the same standard and level that CWFH has been doing for the last decade with their flagship program "Championship Wrestling from Hollywood" and their sister company "Championship Wrestling from Arizona"
What's more, you can expect to see future talent sharing between MKW and CWFH on their respective shows. Who will be the first MKW superstar to appear on a CWFH broadcast?
As one of the first official acts in this partnership, MKW is thrilled to receive the former United world Tag Team Champion Dicky Mayer China, in order to spend valuable ring time with the stars of Middle Kingdom Wrestling. Following CWFH's annual blockbuster, Coastline Clash, Mayer will spend two months in China, simultaneously honing his craft as well as imparting his knowledge for producing in and out of the ring in MKW, before returning Stateside.
Middle Kingdom Wrestling and Championship Wrestling from Hollywood both share the same philsophy on the development of pro wrestling in China and we are proud to be associated with this exciting brand. We can say for certain, that the future of pro wrestling, for both its fans and industry insiders, is very good – or as we say in China, "fēicháng hǎo"
We at Middle Kingdom Wrestling are more than pleased to welcome DICKY MAYER into the MKW family!