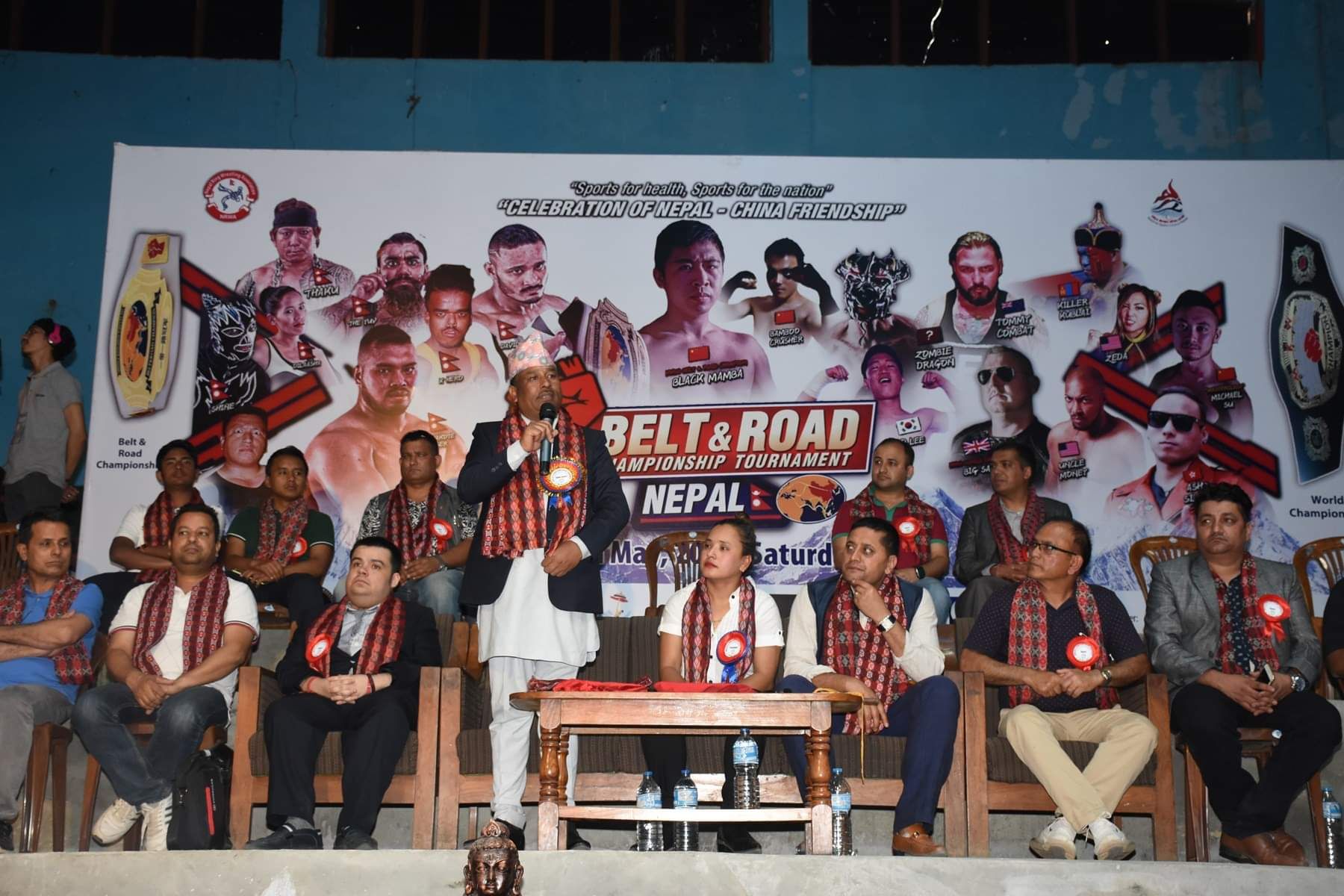 The MKW Belt & Road Championship Tournament: Nepal event was a massive success for both the local fans in Nepal and also for the pro wrestling industry on a world wide scale.
Attracting nearly 2,000 fans at the Rangashala Kabad Hall in the heart of the capital city of Kathmandu, the impact and excitement of the MKW Belt & Road Championship Tournament: Nepal could be felt from both the fans and the local pro wrestling community from Nepal Ring Wrestling Association as well.
This monumental pro wrestling event attracted several of Nepal's most famous musicians, artists and models, as well as special political visitors including Vice President of National Sports Council Mr. Pitamber Timisina and Minister of Youth and Sports Nepal Jagat Bahadur Bishwokarma as they joined MKW president and owner Adrian Gomez and NRWA president Suni Thapa to watch the exciting event together from a special section in the stadium.
After the event, each of MKW's pro wrestlers and staff received a special award ceremony with the acting Prime Minister of Nepal Ishwor Pokharel. The MKW staff who received a certificate and medal include
Black Mamba
Bamboo Crusher
Michael Su
Zeda Zhang
Zombie Dragon
Chairman Al
Big Sam
Ash Silva
Uncle Money
Tommy Combat
JD Lee
Killer Kublai
Adrian Gomez
and of course, the brand new MKW Belt & Road champion, Nepal's own national hero, Nuwakote Tiger.
Through the MKW Belt & Road Championship Tournament, we were able to bring Peace, Prosperity and Pro wrestling along China's ambitious One Belt, One Road. The result of this event has not only helped to develop pro wrestling in China and Nepal, but for all One Belt, One Road members countries. We would like to say thank you to everyone involved in bringing this ambitious event to one of the most beautiful and wonderful countries in the world and making MKW Belt & Road Championship Tournament: Nepal be forever remembered as one of the most important professional wrestling events in modern history.