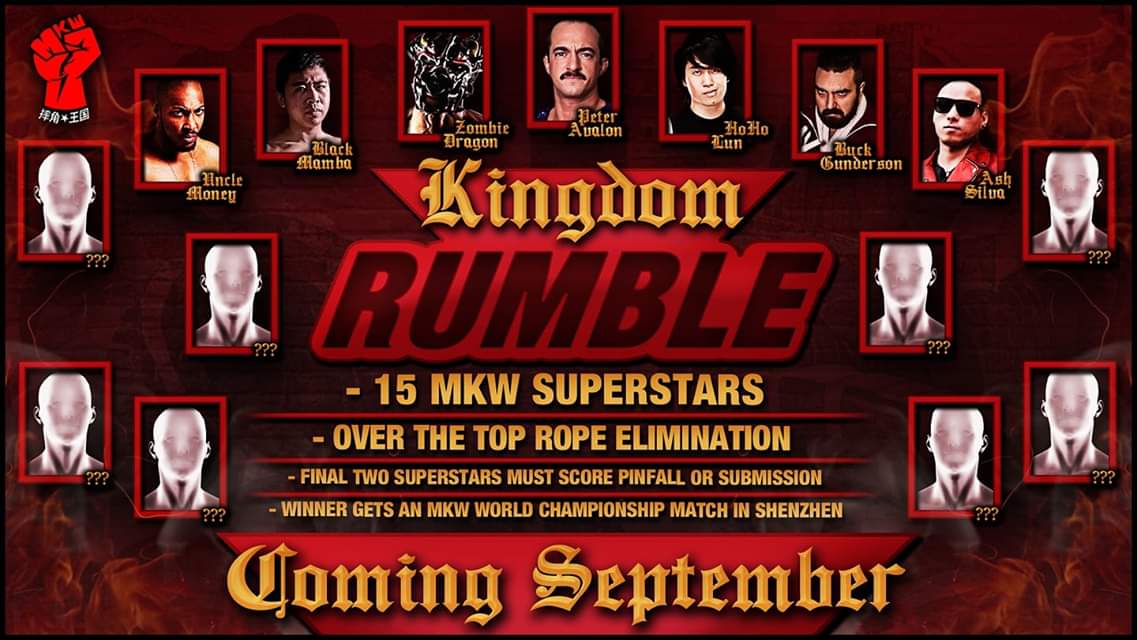 The Kingdom Rumble is an exciting take on the traditional rumble match, but with unique Chinese characterestics where the final two participants must proceed to face each other in a one on one match with pinfalls and submissions rules.
Fifteen MKW superstars will Enter the Kingdom for a chance to challenge for the MKW world championship in the main event of our annual December Shenzhen event.
Seven participants are already confirmed for the Kingdom Rumble this September.
First is Championship Wrestling from Hollywood, Championship Wrestling from Arizona and All Elite Wrestling(AEW) superstar "The Producer" Peter Avalon. Peter Avalon recently appeared on AEW's Double or Nothing event as "The Librarian", so he may prefer that the MKW fans keep quiet during his debut match in China. Peter Avalon is a world class pro wrestling star and we are excited to have him be a part of this historic match for MKW.
Next is the "Father of Hong Kong Wrestling" Ho Ho Lun, who has just this year signed on as a full time member of the MKW roster and is looking to make a huge impact in 2019 in China, the Asian pro wrestling scene and especially in MKW.
Battlearts Academy coach and superstar Buck Gunderson finally makes his long awaited return to China and MKW in the Kingdom Rumble. Buck Gunderson is the first Canadian pro wrestler to wrestle in Mainland China and he now hopes to become the first Canadian wrestler to win the inaugural Kingdom Rumble.
The former MKW Belt & Road Black Mamba is coming into the Kingdom Rumble match with a lot to prove after suffering a major championship defeat in Nepal and what better way for Black Mamba to regain his momentum by becoming the last man standing in the Kingdom Rumble match?
Both Ash Silva and Uncle Money from The Stable will be joining the Kingdom Rumble match, who both will no doubt be working together to improve their chances to victory, but in a Kingdom Rumble match, there can only be one winner and we never know, even strong allies can become bitter enemies ..
And of course, the unpredictable, the unholy, the embodiment of all human sins, Zombie Dragon will be joining the Kingdom Rumble and will undoubtedly add a dangerous level of unpredictability of what is already shaping up to be one of the wildest matches in MKW history!
Exact date and venue location of the event where the Kingdom Rumble match will take place will be announced at MKW Dragon Roar this Sunday in Harbin, China!