­
Hey #MiddleKingdomWrestling fans! We hope that you've had a wonderful #yearofthepig !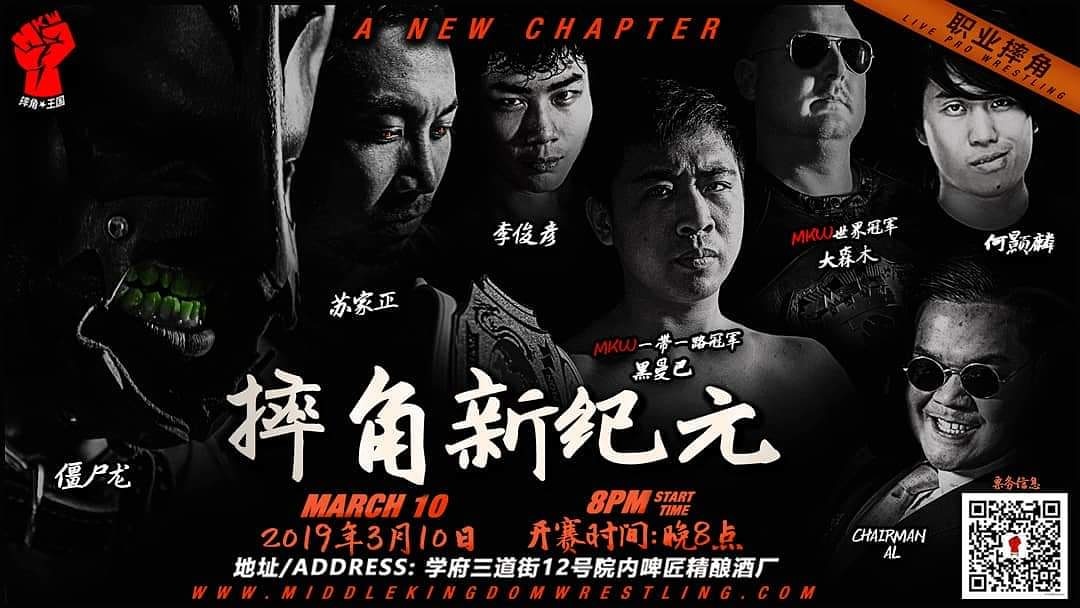 #MKW is here to make it even better because MKW live #prowrestling will return on March 10 to #Harbin #China at the "Beer Bash" venue with our first event of the year that we are calling, "A New Chapter"
MKW intends to start the year off hot by announcing first that MKW Presents: A New Chapter will be a part of a special #LIVE broadcast on the #YY streaming platform. MKW's last live broadcast "Bash at the Bay" in Shenzhen was viewed by nearly 8 million unique viewers around the world and this event will be our first ever live broadcast of an MKW event from Harbin! We are completely revamping the "Beer Bash" venue to offer a unique live studio experience that fans both live in attendance and those watching around world can both equally enjoy.
So onto the card and lineup!
Many have asked for it and we listened! Former #WWE Superstar "Ho Ho Lun" from Hong Kong will be returning to MKW and will be in action on March 10 at "A New Chapter" It has been nearly three years since #HoHoLun last competed in an MKW ring. Everyone is anticipating Ho Ho Lun's return to MKW as he makes his Harbin pro wrestling debut on March 10!
Next, both MKW world champion Big Sam and Belt & Road Champion Black Mamba will both be defending their championships on this night
Black Mamba will be defending his MKW #BeltandRoad #Championship against Bitman from #HKWF and "Trial of Kylinn" winner Lee Junyan in a triple threat match
And
#BigSam will be defending his MKW #worldchampionship against "Masterclass" #MichaelSu in the main event of the evening!
Plus, #UncleMoney and #AshSilva from #TheStable will be in action in singles matches, as well as "Witness" Cam Ferguson, #ZombieDragon , Bamboo Crusher and the debut of several brand new MKW pro wrestlers including: #Irish pro wrestler Connor, "The monster keeper" KC, and the #giant 2 meter tall, 400 pounder "Little Johhny"
Door Price: 120元
#哈尔滨 #摔角 #中摔 #摔角王国 #香港摔角 #港摔 #中国摔角 #chineseprowrestling #chineseprowrestler #chinesewrestling #professionalwrestler #professionalwrestlers