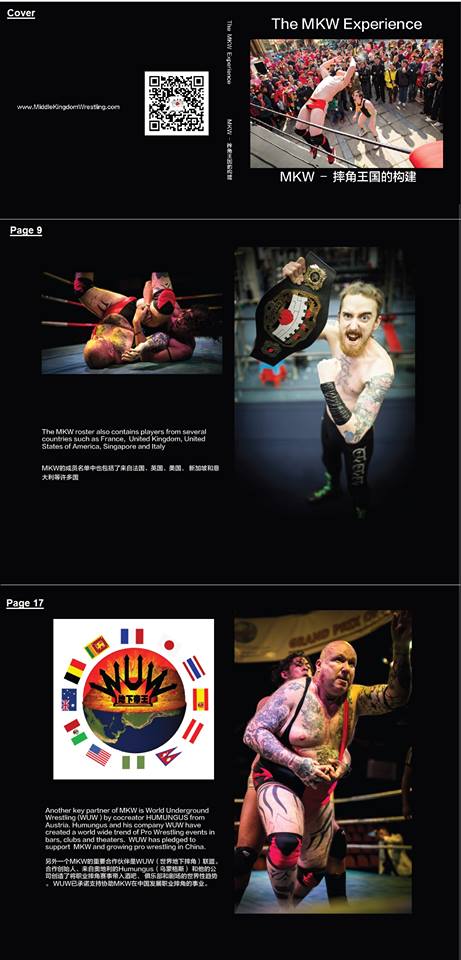 This book – both physically and digitally — will be sold in China through our Wechat store and on our website on January, 6th 2017 but just for our MKW fans outside of China, we're offering a FREE digital version! Isn't that cool ? 🙂 Read on.. Middle Kingdom Wrestling is offering for a LIMITED TIME a free digital, High Definition copy of our beautiful promotional photo book "The MKW Experience" to all those who can prove that they have subscribed to our official Middle Kingdom Wrestling channel and followed us on our MKW official twitter account.
This book is absolutely gorgeous and ANY pro wrestling fan should have this in their catalog of pro wrestling literature/promotional memorabilia! It features 25 pages of High Resolution shots of the Chinese Pro Wrestling scene, as well as general company information about MKW and the Chinese Pro Wrestling scene. The book has both English and Chines text. Send us an email at middlekingdomwrestling@gmail.com with a screenshot/desktop photo of your subscription status with our MKW youtube page or just tell us which twitter/youtube user you are so that we can confirm.
CLICK ON LINK to MKW Youtube: https://www.youtube.com/channel/UCTDe-Iv3OSsJVDxdBdhEd0A
CLICK ON LINK to MKW Twitter: https://twitter.com/MKWwrestling
Digital copies of the MKW Book, "The MKW Experience" will be sent directly to your email beginning after Jan 4, 2017. Thank you so much, And please continue to support MKW and Chinese Pro Wrestling !  Have a Merry Christmas!